The Club's main social ride departs from the Club-rooms at Richards Reserve, Charles Street, Coburg at 7:00am every Sunday morning. Check social media to ensure these are happening week to week or if there are any changes.
The rides vary in distance and difficulty, with options for beginners through to more experienced riders – however there is always a stop for coffee and a chat.
During winter, 6pm on Wednesday nights mean "ergo" training at the Clubrooms.
Spinning on an indoor trainer is a great way to build fitness – especially under the guidance of some of the Club's most experienced riders.
The Club has a number of indoor trainers for use by members – so just bring your bike and get set to train your heart out in a fun and friendly environment.
During summer, our Wednesday night track sessions offer a great opportunity to build strength and enhance your bike skills, and the club has track bikes you can use to try it out. Check here for more details.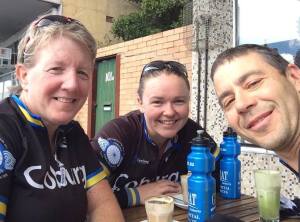 To keep up-to-date with latest on our rides and training, watch our home page or follow us on Facebook.