Road racing is an art. It combines strategy, strength and toughness. No other sport tests the mind and body in the same way.
From Snowy Munro, the first Australian to compete in the Tour de France, to Darren Lapthorne, the 2007 Australian Road Champion, the Coburg Club has a long history of producing great road cyclists.
Coburg members can participate in a range of road races.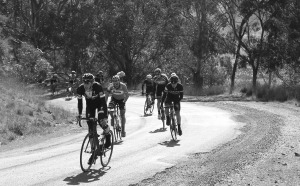 From autumn to spring, we offer weekly Saturday road racing through the Northern Combine – a union of cycling clubs from around Melbourne. This means you can test yourself against riders from around the metro area.
The Northern Combine has a reputation for producing outstanding cyclists. None other than Cadel Evans rode in the Combine, before turning pro.
All races are either graded or handicap events, so you are always racing against cyclists of a similar ability. Everyone has a chance of taking home the prize money!
For the Combine road racing fixture, please click here.
Coburg members can also race in Cycling Victoria "Open" events. These are races that are open to cyclists from around Australia, including the pros. Open races are ideal for competitive cyclists with a real need for speed.
For the Cycling Victoria open racing fixture, please click here.